About Meadowbrook Gardens
Our Meadowbrook Family
Jeff & Pam met in Amherst, Mass while studying Environmental Design and Business Management at the University of Massachusetts.

Jeff has been in the landscaping profession for over 35 years, owning his own design and installation business, Griesinger Landscaping, for more than 20 years. He is a licensed arborist and a licensed pesticide applicator. He is a member of the Connecticut Groundskeeper's Association, the Connecticut Tree Protective Association, the Connecticut Nursery and Landscape Association, and the International Society of Arboriculture.

Pam has managed the landscape business along with Jeff. She is a member of CNLA and a Connecticut Accredited Nursery Professional.

Jeff and Pam have recently begun to pursue an interest in organic vegetable gardening and they love to experiment with cooking new recipes using fresh produce. Their two children, Andrew and Amanda, will also be helping out at the garden center, along with the newest family member, Carlie, the family's adored golden retriever rescue dog.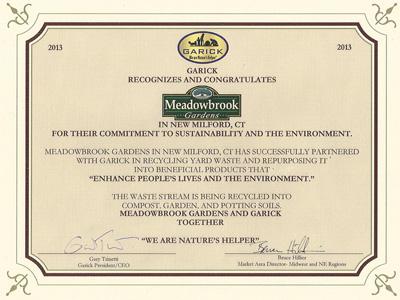 Richard's earliest memories are of drawing: lines & shapes, and colors. He's always had a passion for the natural world, observing, contemplating, interpreting, and associating with it. Growing up in Brooklyn, NY he was surrounded by the man-made juxtaposed with the natural. Trained as a painter, he found himself creating pieces that were that were abstract interpretations of map like landscapes. Shaping the land, working with stone and water, creating gardens and sculpting spaces represents for him a natural extension of all these sensibilities.
Credentials:
2015 Member of the Association of Professional Landscape Designers (APLD), National Board Advocacy Chairperson
2011-2014 Member of the APLD CT Chapter Board
2013-2014 Member, Mile-A-Minute Committee
2013 Connecticut Accredited Nursery Professional Certification
2011-2012 President, APLD CT Chapter
2005-2009 Member, New Milford Inland Wetlands Commission (2006-2009 as Secretary)
2008 Certificate of Landscape Design from the New York Botanical Garden
1982 BFA School of Visual Arts
Valerie has worked for Meadowbrook for 12 seasons. She is our perennial expert and is passionate about keeping up with the new introductions and current trends utilizing perennials and shrubs. She is a a member of CNLA and a Certified Master Gardener who specializes in designing perennial gardens. When she is not busy working in her own gardens, Valerie and her husband, Gary, are often seen kayaking around local waterways or cruising the back roads of New England on their motorcycles.
John is in his 4th season working at Meadowbrook Gardens. He has worked in the nursery and landscape trade for over 15 years, here in Connecticut and also in the Southwest. Passionate about food agriculture and organic growing methods, he is a member of CNLA and a Connecticut Accredited Nursery Professional. On his days off, John and his wife Jessica are kept busy with improvements to their new and training their new puppy, Etta.